2010 One Lap Of America
by David Pozzi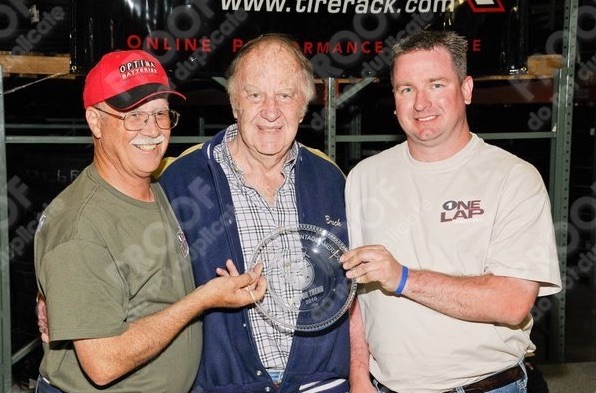 Apr 30, South Bend In. Tire Rack Headquarters WET SKID PAD


After a full year of testing, tuning, running and refining the Optima Battery One Lap Camaro, James Shipka and I finally begin our adventure. The wet skid pad looks easy enough but I've never done it before. After a long wait in line it's finally my turn to see what we've got. I enter the skid pad and begin my run. Right away I see a slightly drier path just out from the tightest line, I try and keep the outside tires in this area. The Michelin Pilot tires start to rumble and vibrate when reaching the limit. There are wetter and drier areas as I go around and the sprinklers are hitting the windshield, I have the wipers on high, a few times I go a little too fast causing the rear to gently step out and I ease off the gas to slow the car down to get it back on line. I try very hard to stay just under the traction limit and not get into wiggle mode. Our competition beats us, I find out their driver is very very good at skid pad testing, their tires are a bit more narrow than ours and different brand. I realize I was over-confident in thinking I could beat them with no skid pad experience, but how do I do better?

6pm we depart South Bend for Road America, this is the first time we have pulled our little trailer fully loaded. I estimate the trailer with contents to weigh over 800 lbs. We quickly find that the Aerotow trailer tows so good it's like it isn't there! The only time we can feel the trailer is when we hit the brakes, it takes longer to slow down. I made a tow hitch modeled after what you could buy back in the 60's, it bolts to the bumper and tail pan bottom edge with a rectangular frame that surrounds the license plate. Around 9 PM we hit the backside of a huge thunderstorm north of Chicago, the windshield leaks from both bottom and top in several places. I stuff a paper napkin in the biggest one that was blowing bubbles at me. We arrive at the motel around 11pm, and re-set our watches for the hour we lost crossing the time zone. 235miles.



May 1, Road America Elkhart Lake, WI LONG COURSE


Built in 1955, Road America is one of America's oldest road courses, and like my home track Laguna Seca, has a long history. It's very long at 4.048 miles and has enough room to get up some serious speed. Our last change to the One Lap Camaro was to widen the rims and tires by 1" front and rear, this is our first track outing with the wider wheels and tires and I'm hoping the understeer we had will now be gone completely. My single "Recon" lap is begun from the pit lane, it is a 3/4 speed exploration lap to get familiar with the track. With that over, I stop behind the others in my group on the front straight just a few feet short of start/finish and await the flag man's signal to begin my 3 timed laps. News comes that the black Cadillac CTS-V two cars ahead of me went straight off at Canada Corner, rode over the tire wall and flipped over! Fortunately the driver was not hurt but the car was a mess. After a long delay we begin again.
Groups of 6 cars are started at 15 second intervals and our main competition, the white 1981 Camaro of Michael Hickman/Damon Josz is right in front of me. Hickman is a One Lap Veteran with 5 or 6 class wins and has participated in the One Lap Of America every year for the last 20 years. I begin my run and thankfully OLC is handling great with almost no understeer. I'm cautious in my lines, taking the apexes a bit late and getting on the power a little late, the last thing I need is to run off the track the first day, and late apexes are the safe way to go. As I get more confidence in my lines and the Camaro's handling, I apex earlier and hit the gas sooner, I hit 145 up the front straight and OLC feels very stable at high speed. On my last lap I catch and pass the Hickman Camaro in the "Kettle bottoms" and I start thinking we may have a very good chance of winning our class! I finish 1st in class, 24th overall.



May 1, Road America. Elkhart Lake, WI SHORT COURSE


James runs the short course, our times are added together to determine our overall starting position for the rest of the week. Our combined times place us 35th overall, about mid-pack and 2nd in class.
Driving on the freeway OLC runs well but we feel a slight bit of surging, when we come to a stoplight the engine dies as soon as the clutch is depressed. We have a problem, we hope it's just bad gas. After dark, James is driving and everything electrical in the car turns off! James turns the key off and back on, the engine comes back to life, he cycles the headlight switch and the headlights come on. We have no clue what is going on, but we have to keep going.
Drove 583 miles to motel.



May 2, Mid America Motorplex. Pacific Junction, IA


We arrive at Mid America at 7:45 AM, there are only a couple of parking shelters, and they are already full. It's a nice day and not hot, no great loss.
James and I feel good today, Mid America is a flat track with a fairly long main straight topping out at 7000 rpm's in 4th gear near 140mph with heavy braking at the end. There's probably a good payoff for braking at just the right point but it will take more laps than we have available to perfect it. There are three long looping turns with super-late apexes that require you to look far ahead to spot them. The track surface is good but has a pavement lap seam in several turns running parallel to our travel that upsets the car if you cross it. There are two turns that require you to give up the ideal line on the first turn exit in order to exit the second turn carrying more speed onto the following straight. I hit my marks well, but brake too early at the end of the main straight every lap, better safe than sorry I guess.



AFTERNOON:

James runs, turns a good time but winds up in second place.
Drive 482 miles to motel, we get there around 11pm, are very tired and go straight to bed.



May 3, Hallett Motor Racing Circuit. Jenkins, OK


The officials warned us that today was the day we'd want to kill our co-drivers. No sweat for us, James and I are getting along great, - so far.
The early birds grab the 4 or 5 available shelters, we pit in the open again, this time it's on a grassy hillside, we have to block the trailer wheels to keep it from rolling away.
What a different track!!! After the wide open high speed blast around Road America, and the flat smooth Mid America, we come to this little hill in the woods with a race track folded around it! The facilities look rather old and the pavement has a lot of patches right where you need to drive. There are many late apex turns, and several blind crests over hills, much more elevation change than our YouTube videos revealed. Looking ahead and creating a flow is absolutely essential to driving well here, you are very busy. Numerous patches vary the grip level in several key turns and you just can't see far enough ahead when you need to. We decide I should run both sessions today, hoping it will pull us into first place in class. The more I run this track the more I like it. There is a nice rhythm to this place and the elevation changes add a lot of character. Our gearing is almost perfect for my cautious first laps but a I'm already hitting the 7000 rpm Redline before braking in a couple of longer straights. With more laps here I'd be on the rev limiter everywhere and there isn't time approaching a braking zone to shift up and then right back down again. My afternoon run felt faster but wasn't, I was more comfortable but didn't push the rev limit as hard and let off a bit earlier in a couple of spots. I guess I was feeling sorry for the engine. On the front straight I tried shifting up to 4th early giving me a few seconds in fourth to get ready for a downshift back to third, then second, while braking hard for turn one, I think this wasn't as fast but kinder to the engine. On my first timed lap with cold tires, I pushed wide in turn 1 and lost some time, once they got a little heat in them, the Michelin Pilots held on much better. OLC had great power today but didn't idle at times and sometimes would idle higher than normal. Something is wrong but what?
Drive 48 miles to Tulsa Raceway Park.



May 3 5pm Tulsa Raceway Park


Arrive 4pm and prep OLC for drag races starting at 5pm. James drives, I take photos. We get points for the first pass, then will get more points for an ET Eliminator race. The car boggs on the first pass, then spins the tires hard, turning in the 16's. Now we don't know what dial in to use. James picks a 12.9 turns a 13.1 on the brakes for his second pass. He adjusts the dial in to a 12.2 and r

uns a mid -12 if I remember right.





May 3 evening, Alternator dies


Leaving the track at Tulsa it's 8pm. We are followed by our buddy Mike "Mr Angry" in his Dodge Charger and two more guys in Corvettes. When I push in the clutch to downshift, the engine coughs, starts running backwards, then dies with a wisp of smoke coming out from under the hood! I've seen this before, but for everyone else, panic ensues, after some under hood probing and a short debate, we agree to restart it and the engine sounds OK. A check of the Racepak dash indicates battery voltage is fluctuating wildly from 10.5v to 12.5v, - this is the source of our problem! We hit the freeway for a while and monitor voltage, it reads good, then bad, then in-between. When we stop for gas we decide to try a new alternator. Miles later we locate an O'riley auto parts store and they have an alternator for us. Our friends hit the road once they know we are taken care of, we operate on OLC turning wrenches and dropping them in the dim light of the parking lot. The new alternator is on by 10 PM, but isn't working any better, - still erratic, the store manager has to close up, but invites us to use the garage at his house a mile away. Once there, James sets up his Laptop, and we get online advice from Pro-Touring.com forum members complete with wiring diagrams and some conflicting information about which wire connects where, both our cell phones are ringing with advice, and there is so much help we almost can't work on the car! We test start the car 20 or 30 times, with the battery discharged down to 10.5v. It's going to sound like a commercial but it's the truth, our trunk mounted Optima battery was simply amazing! After several hours we wind up with the original alternator back on the car, re-wire the input plug, and think we have the problem solved. We say goodbye to our host, tie wrap all the wires, pack up and hit the road at 2 AM. Nearing the Oklahoma turnpike entrance the battery voltage gets erratic again. I don't want to get on the turnpike, be miles from nowhere, and have to get towed, so we pull into a service station and look over the wiring one more time. I spot a tiny split in the heat shrink splice for the alternator switch wire that was shorting against a bracket. We tape it up and finally have stable alternator voltage! As we enter the Oklahoma Turnpike the voltage display climbs higher and higher as the battery charges back up, finally reaching 14.1v. Around 3:30AM, I'm driving about 80 mph with only the tail lights of a big rig in the distance, suddenly everything in the car goes dead! The engine quits, dash turns off and the headlights are out! Without hitting the clutch I quickly turn the key off and on again, the dash and engine come to life, a quick flip of the headlight switch brings them back and we continue on, NOW I'M AWAKE! Did I mention the headlight switch is inside the console? We drive all night, taking turns, stopping only for gas and a short half-hour catnap, then we push on across the St Louis bridge to Gateway. 383 miles traveled, no sleep!



May 4, Gateway International Raceway. St. Louis, IL


After driving all night, we arrive at Gateway at 8 AM. We are both very tired but excited to have made it here in time to compete. The early arrivals snapped up the fairly plentiful garages again, we are left out in the sun, I try and grab a nap during the lunch break, but I can't really sleep. We decide James will drive both sessions today, like I did yesterday. It's really better if the same driver drives both sessions, but our original plan was for us both drive each track. Today at the drivers meeting we are advised to beware of the transition off the banking into the road course at the end of the front straight. When watching other cars go through this section they appear to be really moving and once off the banking hit the brakes very hard. There are some big loop turns with the usual late apexes. James drives both runs, looks good.
Drive 476 miles to motel.



May 5th, Mid Ohio Sports Car Course. Lexington, OH


We arrive at Mid Ohio to find lots of nice garages, but every one of them is already full! We pit in the sun again, it's going to be warm, lower 80's. Our plan is for me to drive both sessions today. I decide I have enough time and energy to walk the 2.4 mile course. This track has lots of blind turns with ups and downs with excellent pavement and curbing. Turn 1 is a blind left hand sweeper at the end of the front straight, it's under a bridge and you can't see very far ahead, it's very difficult to judge your proper corner entry speed. I run the "Chicane" - turns 2 and 3 in the morning run, and we bypass it in the afternoon runs.
In the afternoon I make my first mistake, at the end of my Recon lap, I'm bent on aggressively warming the tires and blow right past the red flag instead of stopping at the start finish line to begin my timed runs! I'm first in line so I have no one in front of me to stop behind. The flagman is very low and stands behind the pit wall, far left at this track, I had tunnel vision and failed to look over there. We get a 10 point deduction for this error. I feel dumb, but we have to put our mistakes behind us and look forward.

We pack up and are both anxious to leave the track. We have 529 miles to drive and it's late afternoon. I fail to grab my usual bottle of water as we hit the road. Within a half-hour I am in bad shape with Dehydration. I pull over along the turnpike and quickly guzzle two bottles of water we had in the trailer. I'm breathing rapidly like I just ran up a hill, my fingers are tingling, and I feel like I'm going to pass out! James takes the wheel and I tell him to take me to somewhere air conditioned where I can sit and drink water. At the next exit he finds a Diner where I sit and gasp for air for nearly an hour before I start to calm down. Several times James asks me if I want to go a hospital, but I know we will lose hours of valuable travel time if we do that so I say no. After I drink an entire pitcher of ice water, we eventually get back on the road but I'm really wiped out. Later on I drive for a couple of hours before it gets too dark, but James does most of the late night driving. I feel bad that I'm not holding up my end. Each time we stop for gas I hit the bathroom to pee but not much happens, I'm dried out! We arrive at the Motel around 12:30 AM. Now I'm up repeatedly during the night to pee, all that water I drank is finally moving through me. I'm happy things are working again but I need some SLEEP! Mary texts me that our little Miniature Pincer "Ruby" is missing, they are searching for her.
Drove 529 miles.



May 6th, New Jersey Motorsports Park. Millville, NJ



This track has no garages, so we pit in the sun the same as everyone else. A brand new facility, NJMP sparkles like a new car, there are two courses, "Thunderbolt" and "Lightning". We are at Lightning, a 1.9 mile course that features a large looping banked turn that leads onto the long front straight.
I'm feeling very tired, weak, and queasy from yesterdays dehydration episode. I slowly walk to the restrooms then on to the hot pits and look over the pit wall, it's about all the walking I can muster, I just have no energy! I talk to the Ambulance guys about what I should be doing, "drink water" they say. I tell James I can probably run the morning session but he should drive in the afternoon when it's hotter. I get some better advice from a registered nurse to drink Gatorade instead of water, which by evening starts to help my energy level. I talk to Mary on the phone, she's in tears, she found Ruby at 2AM out in the front yard, - cold, bleeding, and chewed up, it looks like a Coyote grabbed her. Time will tell if she lives or dies, she's at the Pet Hospital with a punctured lung & loss of blood. I'm depressed and I wish I were home.

I'm at a disadvantage not getting a good look at the track but my Recon lap is very helpful. All the apex points are marked with small cones and I figure out pretty quickly where the line is. The front straight is very long and I suspect I may be in 5th gear near start/finish. My main concern is turn 1 which is a blind crest over a hump and there are no good reference points. Our Camaro is very well suited to this track, and I feel I'm getting around pretty quickly except for turn 1, I know I'm not doing well there. On my last lap, I'm in 5th gear really moving down the front straight, I hit the brakes hard, the pedal is high and firm, but the pads fade, OLC pushes wide and I enter turn 1 way off line, costing me several seconds, - the only good news is, I didn't flat spot the tires, or go off course, but it was a close one.

After my run, James fixes a short in the tail light plug that was blowing fuses the night before, it was no fun driving with no tail lights! James drives the afternoon runs and looks good, but spins in turn 6. Our pit neighbors offer me their canopy to sit under, we loan them our jack. Everyone pulls together here, nice people.
Drive 439 miles to motel.



May 7th Nelson Ledges Road Course. Garrettsville, OK


I don't know why, but many of these rural Race Tracks have very inconspicuous entrances. At Nelson Ledges, we spot a tiny sign by the roadside nearly obscured by foliage, enter via a barnyard, sign in, then cross the track to the infield, zig zag down unmarked dirt roads to find ourselves in a grassy paddock next to some old barn-like buildings and sheds. There are only a couple of shelters, - already taken of course, I really hate those early birds!

Nelson Ledges looks like it has been there since the 50's, half the course is surrounded by thick woods and we are warned to watch for deer on the track. The course has thousands upon thousands of old tires forming a wall on either side of the track, the pavement is old and cracked, with lots of bumps and patches. The track is pretty narrow, I wonder how hard it would be to pass on it. This has to be one of the most punishing paved tracks a car could ever run on. Turns 7, 8, and 9, all comprise a huge banked loop onto a straightaway of sorts. I say of sorts because it consists of turns 10 and 11 that are just kinks but you are bouncing over bumps in near panic mode as you approach them. The car rocks side to side and you feel like you are going to be thrown off the track and into the waiting jaws of that black snake of a tire wall. I've seen a lot of tire walls in my life, but never as many as at this track. I guess it's better than hitting the trees behind them but those tires are just piled up randomly making a mound that a car can ride up on and over. This may tend to launch a car over instead of stopping it like a flat wall of stacked and banded tires.

My morning run turns out well, I nearly catch up to the Corvette in front of me, the high speed run through turns 10 and 11 feels like an off-road event, I remind myself to look ahead, it's important here. My afternoon run feels better, I'm getting more familiar with the track, but on my second lap I think I see the checkered flag in the high flag tower above start finish, - am I done? I look ahead and see the other cars still going hard, so I continue my run. Now I start to wonder what happens if this WAS my last lap and I take an "extra" lap. It's sure to be a 10 point penalty and we don't need that! I decide to ease up when I get to the pit entrance, look for cars exiting, and if the flagman has the checkered flag out I will keep going. I round the last corner and as soon as I ease up, my friends all wave me to stay out and finish. I get back on it and finish feeling pretty tired and stupid, - again. Due to Michael Hickman running out of fuel my time is good enough even with the slow down to stay in 1st place. I'm feeling pretty lucky, but mostly tired. I want this to be over. We leave for South Bend, hitting rain off and on but nothing severe. We see lots of competitors along the way and it's great feeling knowing we have made it this far and it's nearly over. James is driving and we notice the clutch is slipping when he hits the gas. I tell him don't do THAT anymore! It will be OK for the skid pad tomorrow, but JUST. I drive the last leg into South Bend, park in the motel lot and want to get out and kiss the ground! I hear from Mary, it looks like Ruby is going to survive, she's in a lot of pain & very chewed up, but they are taking good care of her.

Drive 295 miles to South Bend motel. I want to crawl into bed and hide from the world. I nap for a few hours, spend a couple of hours socializing with the gang in the lobby, eat a real dinner with some One Lap friends, and turn in.



May 8, South Bend In. DRY SKID PAD


One last event! I ask around and get some tips, generally to not over drive the car on the skid pad and keep in tight to the cones. It's a cold windy day so I push hard to build a little heat in the tires as early as possible, when I begin my first lap, I try to keep the tires at their limit but stay in close to the cones. The run goes well but maybe I didn't push quite hard enough. We score 2nd in class for dry skid pad. The balance felt great and I don't know of any handling issue we could have fixed to do better. All the entrants were very close in this event, so even a tiny bit better G would move you up in the standings. The clutch held up too!
WE ARE DONE! 1st in class by 5 points, 36th overall, Total miles 3,528.9



Lessons learned


When asked to do this I knew it would be tough, - and it was. I knew lack of sleep would be hard for me to deal with, but I was pretty pleased at how well I was doing up to the 5th when I got Dehydrated, that really set me back but by the 7th I was feeling pretty good again. The Optima Battery One Lap Camaro required no major repairs or maintenance other than the alternator issue and mystery power outages. We got compliments on the car everywhere we went, and it hauled butt on the track while being pretty comfortable on the road. James and I got along well the whole trip, we both made mistakes and got a little goofy near the end from lack of sleep, but that's to be expected. We did far better than we had hoped, and met some really great people. I'd bring less spares and use a stock passenger seat that you could really sleep in, seal around the shifter better so we can run with windows up more for less road noise. I'd learn what it takes to turn good skid pad times, wet and dry, eat proper food, not gas station munchies. We later learned the Alternator issues were caused by a shorted alternator wire hidden in the harness.



What's in a name?


Another side issue was over was the name "One Lap Camaro" used by James Shipka. When he decided to build a Camaro to compete, it naturally was called his One Lap Camaro, kind of a no-brainer. However there is another One Lap Camaro of Michael Hickman that has competed for many many years, with many Vintage class wins. In retrospect it was not such a good idea to name a newcomer car the same name as a long time participant of the One Lap Of America. While not much was said to us at the time, I think it caused some head shaking and made a poor impression with some of the veteran entrants. Chalk it up to our ignorance and enthusiasim I guess, but we meant no dis-respect to the "Original One Lap Camaro" which is what Mike began calling his car. They were great competitors and were very friendly towards us. I think we would have done anything to help each other keep running if need be.


I really want to thank our internet forum supporters who cheered us on, bought our T shirts and a lunch here and there. Half the fun of doing an event like this is sharing it with others. I don't know how we could have done this without help from our sponsors: Optima battery, Hellwig Products, Isis Power- Intelligent Multiplex system. Speed Tech Suspension, Tilton Engineering, Problem Child Customs, Marquez, Heighton Restorations, Rick's Stainless Tanks, Camaro Performers Magazine, Pro-Touring.com, Piloti Driving Shoes. and many others. I think James would agree we both want to thank our wives for supporting us in our adventure.