CAMARO STEERING LINKAGE PHOTOS & ID
What does it look like?
What are the differences between options and years?
Look how close the brake lines are to the pitman arms below.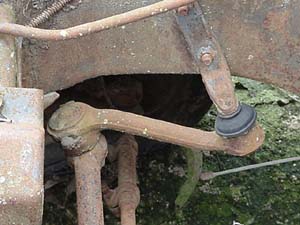 67 manual idler arm 5.8"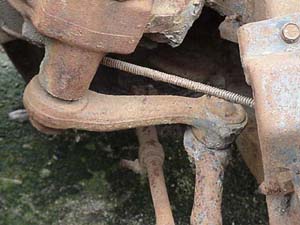 67 manual pitman arm 5.8"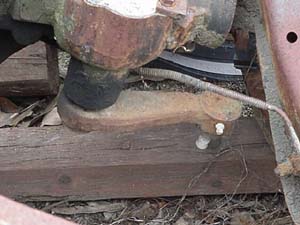 "68 power short pitman 5.25"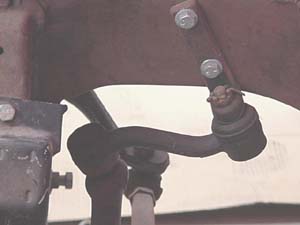 68-69 replacement "L" bracket type short idler arm 5.25"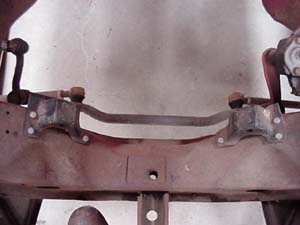 A shot of our 69 Camaro race car with a manual long 5.8" pitman arm and a short 5.25" Idler arm. Note the center link is not parallel to the cross member. there is a wider gap on the left hand side of the photo, the passenger side of car. This Camaro has been upgraded with circle track tie rod ends that are very large and heavy duty, Chrysler screw in lower ball joints, Chevy truck upper ball joints, Stock Car Products spindles, Airheart 12" disc brakes.

A stock 67-68 PS box will give over 4.5 turns lock to lock when it is out of the car. When installed it will be less, especially if you have the long pitman arm, and the short PS outer arms.

The 69 variable ratio PS box is about 2.3 turns lock to lock out of the car.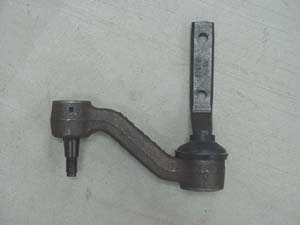 This is a Moog k6099 replacement idler arm for 68-69, length is 5.375" center to center, so it's somewhat in-between a 67 length and a 68/69 length.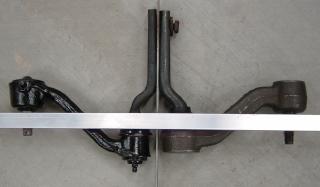 Left is a stock 69 idler arm, right is a currently available Moog K6099 idler arm. The replacement is described above. I bolted them together and laid a straight edge across them to compare the height of the cener link attachments.
---

CAMARO STEERING LINKAGE
PITMAN ARM:
There are two lengths, the short Pitman is 5.25" long center to center.
It seems the long pitman was used on all? 67, Camaros with no short option.
The long 5.8" and short 5.25 were used on the 68 and 69, both manual and power steering.
The 5.8" being used for the fast ratio steering option.
Above that, there was the special fast ratio steering for the Z/28 only, both manual and power.
---

IDLER ARM-
I've been investigating the idler arm differences.
As far as I can tell the 67's used a long idler about 5.8" long.
The 68-69 used an idler about 5.25" long.
I haven't seen a 69 that uses a long idler, if anyone has a long idler on a 68 or 69 please let me know.
---

REPLACEMENT IDLER IS NOT THE SAME AS STOCK!
The replacement MOOG #K-6099 idler arm (square shaped arm) is 5.375" long.
I currently have this moog idler on my 69 with the long manual pitman.
The center link looks a little out of parallel with the cross member. I have heard there is some difficulty bolting the center link up to the long arm and short pitman as they don't line up perfectly, and it puts them in a bind somewhat.
I'll find out more when I change it over to power steering.
I think it will work OK but I don't understand why Chevrolet didn't use the 67 long idler on the 68 and 69 with long pitman.
As far as geometry goes, I don't think there is a problem using either idler with either pitman.
UPDATE: Super Chevy did an article on bump steer and different steering components on the Camaro. Oct 2000 issue.
---

TIE RODS DIFFERENT TOO.
It seems the 68 and 69 camaros used different outer tie rods.
All steering arms are different threads, left and right are different "handed".
The 67 outer tie rod threaded shank is listed as aprox a half inch shorter than a 68/69 part.
---
TOP- 67 PS long pitman arm fast ratio 5.8 . GM#3908391

BOTTOM- 69 PS long pitman arm fast ratio 5.8" GM#3953227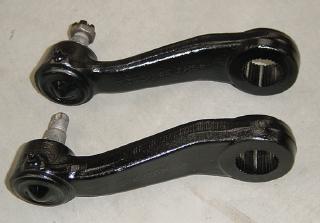 This info is from magazine articles & GM brochures
Here is the way to find out your steering box ratio. This is the box ratio not the overall ratio listed on the option sheet.
Place a degree wheel on the output shaft and turn the input shaft exactly one turn.
DEGREES -------RATIO
22.5 ------16.2
25 --------14.4
29 --------12.4
Some boxes are variable ratio and will give different degrees per turn depending on what part of the travel you are on.
I have a 67 and a 69 box that is the 5691676 casting number, they have different ratio gears from each other.
The steering box ratio is shown by an ink stamped two letter mark on the aluminum top cover near the lash adjust screw other numbers on the box do not tell the ratio.
The 12 to 1 ratio box was only used starting with the 1982 up Z/28 and TA or IROC.
The IROC has a stiffer spool valve for even higher steering effort than the Z/28.
The fastest ratio box before 1982 was a 14 to 1. This box gave a 13 to 1 OVERALL RATIO when in the car due to the steering linkage increase, (longer pitman arm) making it equal to the third gen 12 to 1 ratio.
Here is a link to the Chevelles.com site Tech Reference section on Power Steering. Lots of steering box rebuild info here: http://www.chevelles.com/techref/ftecref29.html
---

HOW TO MEASURE STEERING BOX RATIO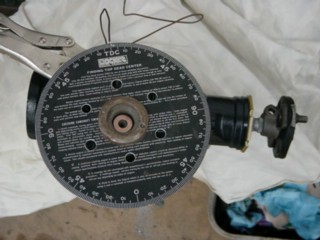 The steering box ratio relates number of turns of input shaft (steering wheel) to complete one turn of output shaft .
(Here is my 12.7 to 1 PS box rebuilt by Lee Manufacturing. Lee Manufacturing

You can measure steering output degrees per input turn as shown above. The rusty wire at the top of the photo is my pointer, it is held to the box by the vise grip pliers. The degree wheel is just laying there it is not bolted to the shaft but some weight on it will help it stay put.
FORMULA:
Degrees of output shaft / turns of input shaft = deg per turn
360 divided by deg per turn = box ratio.
EXAMPLE: This box has 85 degrees in 3 turns, divide the 85 by 3, which equals 28.3 degrees per input turn. 360 degrees divided by 28.3 = 12.7208 turns, which means you have the 12.7 to 1 ratio box.
In other words, you would have to turn the steering wheel 12.7 turns to make the output shaft go 1 revolution.
VARIABLE RATIO BOX READINGS
If you suspect you have a variable ratio box,, first center the steering box, make the pitman arm point towards the end plug of the box, - straight forward. back off the input shaft a half turn counter-clockwise, then begin your readings, set deg wheel to Zero, thrn the input clockwise shaft back to center, then a half turn past center, stop and read degrees.
This ratio would be multiplied by the linkage ratio to arrive at "overall ratio" at the wheel.
Here is a printable degree wheel - FREE http://www.tavia.com/free_degree_wheel.jpg
---
AVAILABLE POWER STEERING RATIOS
This info is not completely correct yet, (may never be)
There are two types of power steering gears, constant ratio and variable ratio. Variable ratio was available, starting in 1969 and offered well into the late 70's. Constant ratio was used before and after the 70's
Constant ratio is felt to be more predictable for the driver in a racing type application, however varable ratio is less twitchy in a straight line, BUT the 69 variable ratio boxes were very fast average ratios, and has low effort levels which can make the car a bit twitchy feeling to some drivers.
Two ways of listing ratios: OVERALL RATIO - measured at the wheel, and BOX RATIO - measured at the steering box output shaft.
VARIABLE RATIOS- Two numbers, first number is the center of travel ratio, the second is ratio near the end of travel, measured at box output shaft, not the wheels. the boxes below were used by GM in the 70's only the ratios marked * are First Gen boxes.
14-11:5:1
16-12.4:1 *
20-16:1
CONSTANT RATIOS- I believe these are at the box ratios, not overall.
NOTE: the ratio numbers change a bit from article to article. I've seen 12 to 1, 12.4 to 1, and 12.7 - to 1 I think they are all talking about the same ratio, and I think the 12.7 is more correct according to what my box measures.
The steering linkage adds an additional multiplier to the basic box ratio to arrive at an overall ratio. It could be a positive or negative multiplier (number less than one - a decimal).
Pitman arm long - 5.8", short- 5.25" These measurements are fairly accurate.
Outer steering arms - short 5.25", medium 5.75", long outer steering arm, is roughly 6.2" long. These are pretty close, I may revise by 1/8" + -
The factory sales brochure for 1967 shows power steering ratios of 17.5, to 1, - the "fast steering"15.6 to 1.
GM OPTION CODES
N40 = Power steering option
N44 = Fast ratio option (could be ordered on manual or power steering)
On Z/28 only, got a "special fast ratio" MANUAL STEERING option that was faster than normal N44 fast ratio.
---
1969 OPTIONS:
1969 used a variable ratio power steering box.
REGULAR VARIABLE POWER STEERING 1969, N40-N44,1969-16.1:1 on center, 12.4:1 off center, 15.5:1 overall (available all models)
N44 FAST VARIABLE RATIO POWER STEERING N40-N44, 1969 16.1:1 on center, 12.4:1 off center, 14.3:1 overall (Z/28 & SS only?)
67/68/69 MANUAL STEERING
(I'm still working on what arms are used with what box, none of this is set in stone.)
NEW NOTES ON STEERING RATIOS AND LOCK TO LOCK
Variable ratio: The steering linkage slows down in ratio as you turn the wheel. In other words the degrees of wheel turn per deg of steering wheel turn are less as you move away from the straight ahead position. This is what was throwing off my calculations of lock to lock steering! It may be that the factory "Overall steering ratio" is an average of the ratio throughout it's travel.
Long Pitman arm measures 5.8" but some books list as 5.75". long outer arm measures 6"
| | | | | | | | |
| --- | --- | --- | --- | --- | --- | --- | --- |
| MANUAL BOX RATIO | OVERALL RATIO | TURNS LOCK TO LOCK | SHORT PITMAN 5.25" | LONG PITMAN 5.8" | SHORT OUTER ARM 5.25" | MEDIUM OUTER ARM 5.75" | LONG OUTER ARM 6.2" |
| std w/air BB & Convert 24:1 | 28.3:1 | 4.8 | X | | | | X |
| all ss and sport coupes N40 24:1 | 24:1 | | X | | X | | |
| N44 normal fast 24:1 | 21.6 | 3.5 | | X | X | | |
| 20:1 N44 w/ Z/28 only "special fast" | 17.9:1 | 2.9 | | X | X | | |
67 POWER STEERING (constant ratio box)
| | | | | | | | |
| --- | --- | --- | --- | --- | --- | --- | --- |
| POWER BOX RATIO | OVERALL RATIO | TURNS LOCK TO LOCK | SHORT PITMAN | LONG PITMAN | SHORT OUTER ARM | MEDIUM OUTER ARM | LONG OUTER ARM |
| 16.2? or 17.5? | 17.5 | 3 | X | | | X | |
| ? | 15.6 | 2.6 | | X | X | | |
| aftermarket 12.7 gear conversion | 12.4:1 | 2.5 estimated | X | | X | | |
| aftermarket 12.7 gear conversion | 11.43:1 | 2.2 measured | | X | X | | |
68 POWER STEERING (constant ratio box)
| | | | | | | | |
| --- | --- | --- | --- | --- | --- | --- | --- |
| | OVERALL RATIO | TURNS LOCK TO LOCK | SHORT PITMAN | LONG PITMAN | SHORT OUTER ARM | MEDIUM OUTER ARM | LONG OUTER ARM |
| 16.2? or 17.5? | 17.5 | 3 | X | | | X | |
| ? | 15.6 | 2.6 ? | | X | X | | |
| aftermarket 12.7 gear conversion | 12.7:1 | 2.5 estimated | X | | X | | |
| 12.7:1 gear conversion | 11.43:1 | 2.2 measured | | X | X | | |
? = is my best guess, probably close. The 67/68 chart is NOT CORRECT YET! I'm still working on this data to include the medium length outer arms.
I believe the slow ratio PS used the medium outer arm and fast ratio used the short outer arm.
I'm pretty sure these arm combinations were used, but not sure of the box ratios used.
69 POWER STEERING (variable ratio box)
| | | | | | | | |
| --- | --- | --- | --- | --- | --- | --- | --- |
| POWER BOX RATIO | OVERALL RATIO | TURNS LOCK TO LOCK | SHORT PITMAN | LONG PITMAN | SHORT OUTER ARM | MEDIUM OUTER ARM | LONG OUTER ARM |
| | | | | | | | |
| N40 16:1 - 12.4-1 | 15.5:1 - 11.8:1 | 2.5 | | X | | X | |
| N40 N44 16:1 - 12.4-1 | 14.3:1 - 10.8:1 | 2.2 | | X | X | | |
NOTE: what pitman arms and outer steering arms are used with what ratio are my best guess, not based on any hard factory data. The first three columns from the left are from factory data.

67/68 PS chart is not correct yet

69 is pretty close
---
RECOMMENDED STEERING RATIO

New - 2018

There are long, medum and short Pitman arms available for power steering equipped First Gen Camaros. The fastest of everything will yield a system that feels too fast and is hard to steer precisely. For Autocross, you want fast ratio steering, but if you make it too fast, you lose precision and you won't be able to get close to the cones without hitting them. Below is a list of important factors that you want to consider:
1. Tire size difference, smaller front tires than rear will cause slower steering response. One size smaller fronts will work, but any more difference will be very very tough to compensate for.
2. Steering box ratio. If you are swapping boxes, 12.7 to 1 with late model IROC or firm feel is ideal. The firm feel tames down the fast ratio so the steering is not over-reactive/twitchy.
3. Steering wheel diameter: a stock steering wheel is 16" diameter. If you install a 13" dia wheel, the steering will feel much faster, but you will have less precision in fine movements. 14" is ideal.
4. Linkage: There are three lengths of outer steering arm lengths that also affect overall ratio. These should be matched with the correct Pitman arm length.
A. If you have short outer steering arms, (5.25" from spindle center to tie rod stud): use a short Pitman arm with 12.7 box.
B. If you have medium length outer arms, use the long or short pitman arm. Long would work better if you have a stock diameter steering wheel.
C. If you have long outer steering arms: (5.75" from spindle center to tie rod stud): use a long Pitman arm with 12.7 box.
5. The IROC type steering box requires more pressure and flow than stock, it also needs a small inline cooler in the return line.
---
STEERING BOX ID
The model box that fits a first gen camaro is the Saginaw #800.
ID codes are ink stamped on the box with two letters, cast or stamped numbers are of no use for Id other than year of manufacture.
Here is a link to many GM steering box ID codes! http://www.chevelles.com/techref/shea_3.html
There is a date code stamped on the aluminum top cover, it will be in Julian date form. Julian date is a secquential date from 1 to 365 starting from the first day of the year to last day. A box stamped 142-9 would be the 142nd day of 1969. If you look on the internet, you can find Julian callanders.
The piston bore size should be 3 7/8" NOT the big car and pickup 4 1/4".
---

WHAT PARTS TO CHANGE TO DO A PS SWAP
Here is a link to a swap using Kragen Auto Parts rebuilt unit, very inexpensive. http://69camaro.nextmill.net/steering.html
PS boxes have a larger output shaft dia than manual boxes, use a PS pitman only.
Use only a first gen Camaro, Firebird, or up to 74 Nova PS pitman. You can't use any of the late pitman arms on an early Camaro.
According to articles, pre 1980 boxes have a .760" input shaft, 1980 and up boxes have a smaller .670" shaft and require a smaller coupler #7826542 from a 77-86 pickup. Pinch bolt #7807271 is used with the coupler.
Here is a listing of production GM vehicles that have flexible couplings that will adapt your steering column to the new steering gear with a 3/4 input shaft.
1977 thru 1982 Chevrolet and GMC C/K (2 wheel and 4 wheel drive) Pickup Trucks
1977 and 1978 Camaro, Firebird, and Nova
1979 Nova
1983 thru 1986 Chevrolet and GMC C (2 wheel drive only) Pickup Trucks
My 67 PS box has a .800" (large) OD input shaft. the measurements above from magazine may be ID of coupler??? Some articles say early is 13/16" , late boxes have 3/4".
Pre-1980 used standard inverted flare fittings on the box. 1980 and up boxes (maybe 81 up) use a special fitting with an O ring seal. Adapters are available from Lee Manufacturing, call 818 / 768 / 0371
Power steering pumps use three types of output fittings, the 60's standard 45 deg flare with male end on the pump, the 70's inverted flare with female end on the pump, and the 1980 and later metric Saginaw fitting with O ring and female end on the pump and box. Most older pumps must have flow and pressure boosted to properly operate a fast ratio box.
Pressure hose for using inverted flare pump with us flare PS box: Powercraft hose #70973. Should be able to get it at Schucks Kragen or Checker, or any other parts house that carry the powercraft brand. Others may be able to cross it with what line they got. It has the male 3/8 inverted flare and the male 7/16 inverted flare.
Coupler for 67-69 PS 7806390 13/16" (.8125") origonal PS shaft.
Coupler for later PS or manual box to adapt smaller 3/4" dia shaft 7826542 - Used on 77-79 camaro, 77-86 Pickups. For boxes with flat on input shaft.
Coupler for 67-69 Manual steering 7806391 I believe this is a 3/4" shaft but should not be used on the later type boxes with a flat.
Pinch bolt 7807271 small head, couplers do not come with a bolt.
---
PS CONVERSION QUICK CHECKLIST
CORRECT BOX FOR APPLICATION, NOT A PICKUP TRUCK BOX WHICH HAS A LARGER PISTON, AND MOUNTS ON THE OTHER SIDE OF FRAME.
PROPER RATIO, USE MY MAGAZINE CHART FOR ID AND APPLICATON, YOU CAN VERIFY USING MY DEGREE WHEEL TESTING METHOD.
STEERING INPUT SHAFT SIZE - GET PROPER COUPLER (RAG JOINT)
PS OUTPUT SHAFT SIZE - USE PS PITMAN FOR FIRST-GEN, MANUAL PITMAN IS TOO SMALL.
PS BOX HYD PORTS - 80 AND UP, MUST USE ADAPTERS.
PS PUMP - MAKE SURE IT HAS ENOUGH PRESSURE AND FLOW, USE A COMPATABLE PULLEY AND MOUNT, CORRECT OUTLET PORT, MALE, FEMALE OR SAGINAW FITTING OR ADAPT THEM.
PS PUMP BRACKETS - SEE MY BRACKET SECTION.
HEADER CLEARANCE - A POWER STEERING BOX IS 1/4" HIGHER AT THE ALUMINUM CAP, 1/4" WIDER AT THE CAP BULGE. (updated 7/15/04)
AFTER UNIT IS RUNNING, YOU MAY HAVE TO RAISE PRESSURE OR INCREASE FLOW (see below)
---
PART NUMBERS FOR GM REPLACEMENT BOXES
From Magazine articles
82-86 Z/28, TA 12. to 1 ratio. 783897
83-86 Monte Carlo SS with HD susp, 83-84 Hurst Olds, Regal with FE2 FE3, 86 Grand Prix with touring pkg. 12.to 1 7843135
84-up firebird & TA with 16" wheels (N96), 85-86 IROC (FE2 16" wheels), 86 firebird all V8 Stiffer valve than above - 7843512
12.7 TO 1 BOXES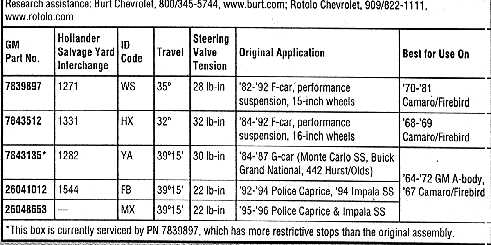 The "ID code is ink stamped on the box aluminum top or on the end plug.
Here is a link to info on swapping internal steering box parts.
Here is a link to steering coupler info
PS units have different size shaft than manual, Later (third gen up) PS boxes have smaller input shafts than first and second gen Camaros. Early is 13/16", 80 up, is 3/4".
Link to PS conversion using Kragen PS rebuilt for IROC
---
MAGNEFINE PS INLINE FILTER

I recomend a good inline filter on your PS system, this one looks like a very good one, I don't like that it's plastic but with a proper cooler it should hold up. I really like the internal filter it uses.

Thery are available here at a good price, they also sell oil coolers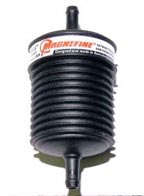 ---


STEERING COUPLER ALIGNMENT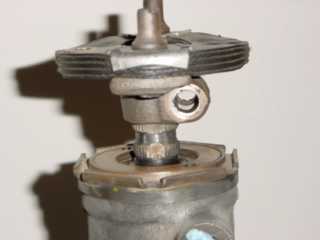 When installing the coupler and box, first center the box in it's travel with the flat facing up, then align the shaft with the flat spot as shown, this should be in the center of the boxes travel. Then install the coupler as shown, with the head of the bolt pointing up, except push it on all the way. The clamp bolt fits in the groove on the shaft. When done this way the steering wheel will be aligned correctly. The pitman arm should be pointing exactly toward the front of the car.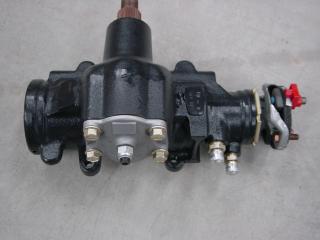 I added AN dash 6 hose adapters and a new Lee Coupler.
---
GENERAL GM PUMP INFO
There are two basic types of pumps, a type 1 which comes with a reservoir surrounding the pump housing, and a type 2, which uses a plastic reservoir either remote or clipped to the pump side, and no housing.

Type 1 early pumps have a small shaft with keyway and a nut to retain the pulley, the later type 1 (post 1974) has no nut or keyway, uses a press on pulley with larger shaft. I think the changeover was 1974/75.

Type 2 shafts also come in two sizes, - one has a ball bearing, one has a bushing for the pump shaft. I think a 2002 Camaro uses the bushing type, Corvette uses the bearing. You can't put type 1 pulleys on a type 2 pump.

Never hammer a pulley on or off, it will damage the pump internally.

Pressures and flows vary, generally the early pumps have less flow and pressure which dont work well with a 12.7 box. But the outlet valve and fitting control pressure & flow, so it's easy to get the pressure and flow you want. Early type 1 pumps used a male outlet fitting and a flow valve with a notch in the flat end. Later type 1 pumps use a female outlet fitting with a flat end on the valve.



---

INCREASING POWER STEERING PRESSURE OR FLOW

1. PUMP OUTLET FITTING (From a 1970 up female port type) area "B" is flat and has a side hole on this one, The first gen version is thinner in this area and has no side hole. B hole is NOT where you drill, the hole to drill is straight in the center of the body near B, parallel with the oil flow. "A" should not be drilled.
2. PRESSURE CONTROL VALVE
BELOW an early "Male" outlet fitting and pressure control valve. Note the slot in the "head" of the pressure valve. Drill the tip of the outlet fitting where it touches the pressure valve. Use a high quality colbalt type drill bit, - the valve is very hard at the tip. Pictured is the .140" drill a 9/64". Some outlet orifices are as small as 1/8"!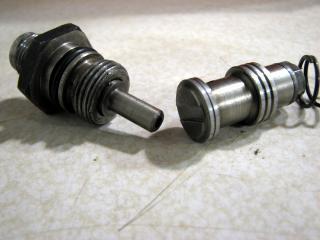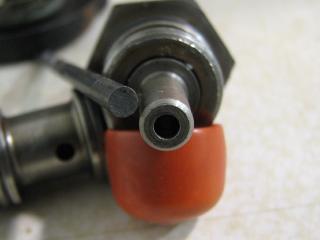 Drilling out the outlet restriction is pretty straightforward.
FLOW INCREASE
An article I have here from Lee Manufacturing says for the Z/28 box you need 2.75gpm. - 2.2 to 2.5 is stock.
It says to drill with a .147" drill which is #26 bit. The pump I had done by Lee Mfg was .157" and I have a stock one at .128" These are all the later style fittings, as in the photo above but early valves should use the same sizes. I'd drill to .147" and it should work OK.
Oversizing the restriction increases system heating and makes the steering too responsive. On one system I drilled out the hole to 3/16" and when turing the steering wheel and watching the tire, the wheel was moving in tiny jerks. The restriction is there to control flow and smooth out the pulses of the pump, too large a restriction makes the response jerky.

PRESSURE INCREASE
Early Camaro pressures are usually 1000 psi or below, 1200 psi is needed for the new box.
The article says to remove ALL shims on the pressure valve, but one shim removed should be enough, you can allways remove more if needed. All shims removed will result in aprox 1400 psi.
Removing the little nut on the valve is very very hard to do without damage to the valve.
The method to remove the nut is to find a piece of aluminum tube that fits the OD of the valve, cut a notch out so it's a "C" shaped piece of tube with a 1/4 gap on the open end. Slide the valve inside and clamp it in a vise, unscrew the "nut" to change pressure setting shims.
LATE MODEL PUMPS ------WARNING!

Late pumps do not come with pressure adjusting shims. Loctite is on the threads and the "nut" is turned in to a specific height, it is not bottomed out on anything. If you unscrew it without measuring where it was set, then re-install it full tight, pressure is going to be way way too high and may ruin the pump or box. Borgeson sells a shim kit and it has a grabbing "tool" to hold the valve in a vise without damage. Most late model pumps do not need the pressure raised. I recommend trying it at factory setting. Link to Borgeson shim kit: https://www.borgeson.com/xcart/home.php?cat=133



Here is an article on PS pump pressure mods: http://www.hotrod.com/how-to/transmission-drivetrain/1209sr-power-steering-pump/

---

OUTER STEERING ARMS - THREE LENGTHS!
HOW TO MEASURE ARM LENGTH
Add 2 3/32 inches to this measurement (below right) to get the center of spindle to tie rod hole measurement. - This is the measurement I use in my part number list below. I hate using two methods of measuring but on the car measurement is easier from the rear bolt hole.
The tie rod end is not 90 degrees to the bolt holes so the exact length will vary depending on how you measure it. Try to measure level to the two steering arm mounting holes as shown below. Measure from axle center line shown in white in the photo, to the top of the tie rod stud.

RIGHT: This "short" outer arm -3954876 gives you the

fastest ratio when used with the long pitman arm on the box.

Thanks to Bret Copsey and Johnny for the photo (left), and added info on the steering arm lengths. He had an extra long pitman arm shown on the left that I haven't seen before.
STEERING ARM PART /FORGING NUMBERS
(Forging and part numbers appear to be the same)

NOTE: these parts are fairly difficult to accurately measure for length. I have seen numbers that vary. Measuring from spindle center, I have used 5.25" and 5.8" for the long and short pitman arms. I have seen GM listings of 5.75 for the manual long pitman arm, and 5.312" for the short outer arms. But if you calculate the overall ratios with those lengths they don't come out and I have measured the long pitman arms and they are 5.8" not 5.75".
WARNING: When shopping for outer steering arms, allways verify that the arm length is what you want by measuring it. I have recieved a few emails that some arms listed here are not the length stated. For all the arms listed I HAVE verified GM made some in that length but they also may have made some with "other" markings. Always verify length by actually measuring them from spindle center to tie rod hole.
OUTER ARMS
Lengths are from center of spindle between attachment bolt holes, to center of tie rod hole. See photo above. The rear arm attachment hole is 2 3/32" from spindle center.

Remember, Nova, Ventura, Omega, up through 1974 uses the same subframe as Camaro.
SHORT 5.25" LH-3954875 RH-3954876 Used on power steer, and Z/28 fast ratio manual.
SHORT LH-3902519 RH-3902520 turn stop pad is more pronounced on top, arm appears a bit thinner than later arms. 1968
SHORT LH-3954879 RH-3954880 (listed in parts book as 5.312" long, this may be the actual correct length for all short arms)
SHORT JL8 four wheel disc arms, 1969 Z/28 Heat Treated, Shot Peened, (probably short 5.3") LH 3916237, RH-3916238
MEDIUM ARM 5.5" length RH-3916266 LH -3916265? not sure what ratio. 67 and into 68 manual steer.
MEDIUM ARM 5.5" length RH 3954874 LH3954873 - All except for PS and 302 1969 only.
LONG 6" manual, - LH-3902517 RH-3902518 (67, early long measured at 6") LH-3917193 RH-3917194 slow ratio manual steering. (May have also been used on some PS equipped cars.)

PITMAN ARMS
MANUAL LONG 5.8", 3953225 (5671822 this number was given to me but not sure of it, does not start with 39xxxxx)
GM part number (casting number)
MANUAL SHORT 5.25", 3953217 (on part 3953219)
POWER LONG 5.8", 3953237 (3953227 on part late, - 3908391 1967 early-thinner)
POWER SHORT 5.25", 3935711-late -3935075 3953231-327 eng -early?
CENTER LINK
large OD PS center link - 3953221 :no longer available
STEERING BOX- MANUAL
all manual case casting numbers are 5679142 regardless of ratio for Camaro.
manual steering gear assembly Z/28 "special fast" 20 to 1 ratio fits 67 to 81 Camaro. 7806396
manual steering gear assembly 16 to 1 ratio Monza and Vega 7819935 might fit Camaro. Listed in "Chevrolet Power" parts book.
---

Here is some recient (4/19/02) info I saw on Team Camaro, thanks to TC member, "kyvox" for posting it.
http://www.camaros.net/forum/Forum16/HTML/000527.html
I just found this tidbit in the August 1968 edition of "Chevrolet Service News", and thought it was interesting.
"1967 Camaro Manual Steering Gears Used in 1968 Production"
"In order to use up a surplus of 1967 Camaro manual steering gears, all 1968 Camaros equipped with manual steering built from May 22, 1968 to June 7, 1968 at the Norwood assembly plant [Serial Nos. N438680 through N448071] or from March 29, 1968 to July 23, 1968 at the Los Angeles assembly plant [Serial Nos. L338182 through L359064 (estimated final production serial number)] were built with the 1967 manual steering gears. Units incorporating these gears will also use 1967 steering arms, pitman arm and idler arm. Consequently, whenever it becomes necessary to replace one of the above mentioned affected components on a late built Camaro, check the serial number. If the serial number falls within the ranges given above, verify the existence of 1967 componets using the information given below."
The article then has a chart of part numbers to identify 1967 components.
Steering Gear Assembly....Daub of yellow paint on top
L/H Steering arm.....#3916265 forged on arm
R/H Steering arm.....#3916266 forged on arm
Pitman Arm.....#3908391 forged on arm
Idler Arm.....#3908385 forged on arm
Article continues:
"It should also be noted here that if power steering is installed in the field on a 1968 Camaro having the 1967 components, the pitman arm supplied with the 1968 conversion kit should NOT be used. Instesd use pitman arm, Part No. 3908379."
Note: forging numbers are often not the same as part numbers on the pitman arms.
I believe the outer steering arms forging numbers ARE the same as the part number. Years ago, I ordered short outer arms and the part number was the same as forging number. David
---

PS AND ENGINE PULLEYS
The Z/28 and BB (High Perf Set) used special deep groove pulleys, which are highly recommended for any small or big block application.
LOW PERF, SET, narrow groove, short water pump 67-68 V8 327, 350:
3744043 crank - double groove, low perf V8
3751232 crank - PS drive insert single, low perf V8
3890419 water pump double groove, low perf V8
3770509 PS pump low perf V8
Above came on my 67 327/275 with California smog pump, PS.
---

Z/28 HIGH PERF DEEP GROOVE SET. short water pump 67-68:
3858533 crank - double deep groove, Z/28 and HP
3765947 crank - double deep groove, PS drive insert Z/28 and HP
3770245 water pump double deep groove, HP V8
3720616 water pump pulley spacer shim - reinforcement
481042 PS pump - single deep groove perf, HP V8 (not stock, just something I found on an old pump)
---
Z/28 HIGH PERF DEEP GROOVE SET long water pump 69
All 69 and later GM pulleys are the deep groove type, no more low perf.
3941105 PS pump - this is stamped steel, not cast iron
3956668 crank- two groove
392456 water pump single groove

Shown above, the deep groove 67/68 Z/28 water pump and crank pulleys are on the left, with the PS third groove insert pulley inside the crank double groove pulley. The center crank pulley is a smaller OD billet aluminum one I bought aftermarket, on the right are the stock low perf V8 pulleys, the crank double groove pulley has the PS third groove insert in it. In the foreground is the pump pulley for the low perf 327 #3770509.
---

PS PUMPS AND BRACKETS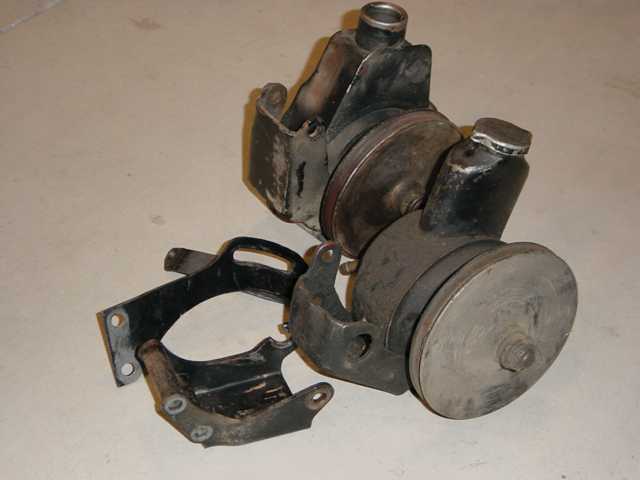 LEFT front,- a high perf PS mount and adjuster bracket, this one clears the large OD high performance vibration damper on the crank. To the right front is a low perf bracket and pump with low perf stamped pulley. The low perf pump uses a different adjuster bracket, it bolts to the two front motor mount bolts. If the later interlocking engine mounts are used they can interfere with the bracket fitting on the lower hole, the interlocking tab is in the way.
To the rear, is the 69 style bracket. This bracket bolts to the long water pump which has a boss cast into it, the tensioner slot bracket bolts to the exhaust manifold (not shown).
The rear pump is a later pump, maybe a 1970, as evidenced by the larger rectangular reservoir.
67 PS pump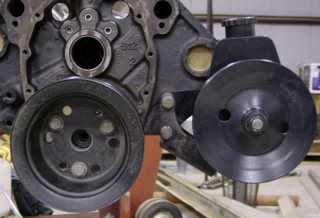 Above is my 67 high perf PS pump bracket. It will clear the large vibration damper with no mods.
---

PS HOSE INFO
The PS hoses run very close to headers, and leaks pose a serious fire hazard.

Here is how one person converted his hoses to Aeroquip:
"I'm in the process of making power steering hoses for my 69. I used Earl's #139107ERL pressure line out of the pump. The rest is Aeroquip stuff. Aeroquip #FCM2964 and #FCM2965 adapter fittings for the box with #FBM1389 and FCM1532 hose fittings; #FCM2872 flare to braze w/ Aeroquip #FCM1512 fitting for return to pump. The pressure side got Aeroquip AQP High Pressure Hose and the return side got AQP Socketless hose. I think all this was under $80. It will look great and you can route it anyway you wish! - Joseph"
Teflon lined hose can also be used for pressure line. Normal Aeroquip line can be used for the low pressure return hose.
---

POWER STEERING OVERHEATING PROBLEMS
Went to Baer/Hotchkis/Flowmaster open track day.
It appears the early Camaro PS systems are not getting enough cooling to survive.
Most early Camaros have heating problems when driven hard on a track.
I talked to Lee Manufacturing today, and here are his comments.
At high RPM's the PS system is putting out about 20 times the volume that is needed. At that speed the hoses are becoming a restriction to flow.
There is so little total system volume, the fluid is really moving and heats up and foams the oil.
The pump should be run slower, but for a street car, the volume at idle may be too low to turn quickly enough!
Race cars run the PS pumps from 1/2 to 1/4 of engine speed.
Most Camaro pumps are 1 to 1 speed, or .92 of engine speed.
A larger PS pulley would be a good addition if the car will still steer at low rpm's.
A remote reservoir is good for a 30 to 60 degree reduction in temps. The suction hose on the bottom of the reservoir should be half inch dia and able to withstand suction of the pump.
Winston cup cars run PS temps of 300 to 350 degrees. Not that you would want to go that hot, but the WC teams won't spare any air flow to cool the steering.
A flat tube cooler is a bit better for cooling fluid. this would be a Serk, Mocal, or Earls Temp A Cure type oil cooler, but these coolers have flat sides where the fins connect similar to a water radiator. The PS fluid is vibrating rapidly and these coolers can vibrate too and make noise. The vibrations also can damage the cooler after years of vibration.
The round tube type cooler is not quite as good for cooling but less noisy and more durable.
A good cooler should be used with ample air flow through it. A good cooler will have a 4 to 5 degree temp drop from inlet to outlet.
Tony Huttmer showed us a neat PS reservoir with a cleanable screen filter inside.
You might consider a smaller crank pulley to reduce all accessories on the car, but cooling and charging may suffer if you slow them down too much.
Here is a link to a how-to rebuild page for PS pumps.
---

CENTER LINK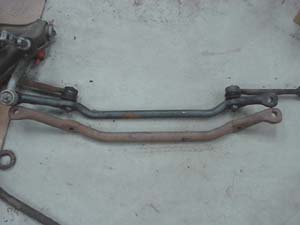 Upper center link is a 67, lower is a 69 Power steering unit. I believe all late and big block PS center links were the heavy type.

Small center link is .950"

Large center link is 1.125" GM#3953221
---
I have located a source for the long idler arm #20227 for 67 Camaro and Firebird. It's made by:

Rare Parts Inc. 923 El Dorado St

Stockton, CA 95206

Phone (800) 621-2005 in CA or (800) 621-2008

The Camaro restoration catalogs of Classic Industries and Year One sell this arm too.

Don't waste money on this expensive idler unless you really need it. The 68/69 replacements are only .25" longer at 5.5".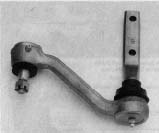 Rare Parts inc. won't sell directly to consumers, you may have to get your parts store to deal with them for you.
---
MOOG 67/69 STEERING AND SUSPENSION PART NUMBERS
(NOTE - SOME 67 AND EARLY 68 PARTS ARE DIFFERENT)
MOOG#
Both sides outer tie rod 67 ES348R (4.62" long)these are shorter than 68-69, don't know why, is adjuster sleeve longer on a 67?
Both sides outer tie rod 68-69 ES381RL (5.75" long)
Both sides Inner tie rod 67-69 ES681N
Toe in adjuster sleeve 68-69 ES350S
Upper ball joint K5108 67-69
Lower ball joint K5103 67-69
Upper control arm Shaft kit K5250
Idler arm + bracket K6099 all 68-69 5.375" long - cast iron, not forged steel.
Idler arm, K6093 all 67 5 3/4" long (no longer available)
Pitman, manual K6150 68-69 (short)
Pitman K6151 PS, short 5.25"
Pitman, PS K6154, 67-69 5.78" long (probably 5 3/4") 32 splines 1.1-1.18 diam. Not longer available from Moog.
Pitman, PS , long, Moog# 6582 New production run, early versions had no grease fitting, later do - Currently available at any auto parts store that sells Moog parts.
Pitman, PS long, TRW # 18770 Same as above. Probably a Moog part in a TRW box.
NOTE: There are two length pitman arms for power and two lengths for manual. Std 17 to 1 ratio power steering uses 5.25"
Optional fast ratio PS, uses 5.7" long Pitman arm.
---