Cheap Big Brakes
This page contains info on how to put Early Corvette (mid 60's - 70's) brake rotors on your drum brake hubs, with a Chevy pickup truck caliper. In 1968 and 1969, Chevy offered the "JL8" option which consisted of Corvette rotors and calipers. You can still do this swap with aftermarket parts, but the Corvette calipers & brackets are expensive. The Corvette calipers stick out more and wheel clearance can be a problem.

There are other ways to get disc brakes on your Camaro or Chevelle using late model Corvette rotors and calipers, this method clears 15" wheels and is very cheap to do, but the C4 Corvette rotors are not wide enough to be an improvement over stock rotors at 1.1" thick and while the diameter is near 12" they don't cool very well.

DISCLAMER
This info is provided here are just some thoughts I had, I have not done this swap. I'm not an engineer, fooling with brakes and suspension can greatly improve your first gen Camaro. BUT it can also GET YOU KILLED! if you do something wrong. Unless you have a lot of mechanical skill and are ready to figure things out to make them work. Leave the modifications to the experts. I HAVE NOT DONE THIS SWAP BUT HAVE MOCKED IT UP. OTHERS HAVE DONE IT AND IT HAS WORKED FOR THEM.
THE C.B.B. THEORY!
(Cheap Big Brakes)
(JL8 based)
I have had this idea for many years. Now I've finally got the parts together to mock up the assembly.
Corvette rotors on a First Gen Camaro.
On a single piston front brake Camaro, swap a 1 1/4" X 11 3/4" dia 70's Corvette front rotor onto a Camaro drum brake hub, use the Camaro caliper bracket, but cut it and add a piece to space it out for the larger diameter, and use a wider big car or pickup single piston caliper that is made for a 1.250" wide rotor. Other than the extra width, the single piston calipers are the identical and bolt up.
The Corvette rotor is not really 12" it measures 11 3/4". The stock disc is 11" OD so you will need to space out the caliper radially 3/8" by cutting the single piston bracket and adding a 3/8" piece of metal, or welding in a piece of steel plate as in the photos below.
With proper HD brake pads the stock rotors work pretty well. In the case of a big block Camaro, or if you want to run on a road course or high-speed Autocross, this setup should work very well. I would consider air ducts for track use.

.The next step up would be to go to four piston calipers like the Willwood Superlite III, and / or 12.19" curved vane rotors on custom made aluminum hats. something like this JFZ mockup, but using a superlight III caliper. Willwood sells aluminum hats and rotors for the thrid gen Corvette.

---

HUB DIFFERENCES
DRUM HUB VS/ DISC HUB
CAMARO DRUM HUB LEFT.

with long studs added longer than needed, longer studs are needed, at least use Corvette front studs, Camaro studs are too short. 4th gen Camaro metric studs can be used if you drill the holes out and they are 12mm, almost 1/2" which is better for safety.

CAMARO DISC BRAKE 67/69 HUB RIGHT.

(with rotor unbolted from the back)

Use the Camaro drum brake hub on the left, it's 9/16" shorter to the flange surface.
This hub difference is why when you upgrade from factory drums to factory discs, your wheels may hit the front fender lip, the disc hubs are offset outward more.
BIG BRAKES
THIS IS HOW THE 69 JL8 FOUR WHEEL DISC OPTION WAS DONE BY THE FACTORY.

CAMARO DISC BRAKE SPINDLE WITH CAMARO DRUM BRAKE HUB, & 11 3/4" CORVETTE ROTOR

(late 60"s early 70's)

USE A CORVETTE FRONT ROTOR. (Corvette rear rotor is 1/8" deeper offset inside)
Cheap Big Brakes

Here is a side by side comparison of my idea.
On the left is my 69 style 1" X 11" single piston brakes. I got the one piece rotors from an early Monte Carlo.
On the right is the 60's/70's Corvette 1 1/4" X 11 3/4" rotor mounted on a drum brake hub.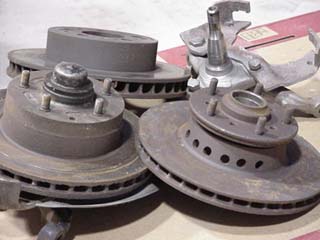 Clockwise, starting from the left front
1. An early Monte Carlo one piece rotor on a 69 single piston spindle.
2. A late 60's corvette rotor there is a slight offset difference between the front and rear Vette rotors, Be sure to use a FRONT rotor only.
3. A 69 single piston disc brake spindle and caliper bracket, LH.
4. A 69 stock two piece rotor. If this rotor looks a little thin, it's been turned as far as it will go!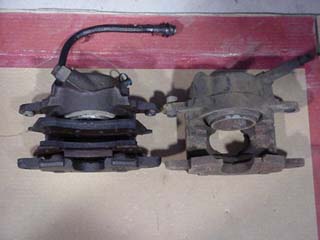 CALIPER COMPARISON
Here is a comparison between Camaro and big car or pickup truck calipers. On the left is the Camaro caliper. On the right is a caliper from a full size car or C-10 pickup with 1 1/4" rotor. All measurements are the same except the caliper on the right is 1/4" wider for the wider rotor.
Try and get a caliper that has the same hose type as a Camaro. Some are different. There are right handed and left handed calipers. this particular caliper has a wierd hose, most are like the Camaro caliper.
I have NOT researched the hose part of this swap.
Make absolutely shure the brake hose is properly routed. If it rubs anything, it will FAIL!
Below are a couple of new photos I've added. The LH caliper is the 1" wide Camaro one. The RH caliper is made for the 1 1/4" wide rotor. This one is more similar in hose mounting to the Camaro caliper. The clocking is not perfect, but could be relocated. They take the same pads.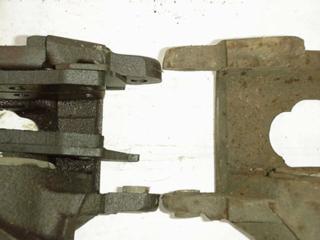 CALIPERS The big caliper is on the right, Camaro caliper on the left. The bolt spacing is the same and they will interchange. Note the extra width.
Here is the caliper mocked up on the 11 3/4" Corvette rotor.
The Corvette front rotor is 3/4"larger diameter than the stock Camaro rotor. So you will need to cut the caliper mount and add 3/8" (half the difference) to move the mount out to match the diamiter of the Corvette rotor.
The JL8 four wheel disc option used the Corvette four piston caliper, but If you space out the single piston caliper bracket and use a wider truck or GM big car single piston caliper, it will work and the single piston caliper is more reliable, cheaper, and has better wheel clearance.
Other racing four piston calipers or could be adapted too.
This photo has the Camaro drum brake hub on the spindle, the two DISC HUB will not work, it has too much offset, you need the CAMARO DRUM BRAKE hub.
You must either use a Camaro disc brake spindle or machine your spindle to disc brake dimensions.

Camaro caliper on left, actually a Monte Carlo caliper I've been using on my 67 Camaro. The proper 69 caliper has the hose coming out on the same side as the bleeder screw.

I'd try a mid 70's chevy half ton pickup truck caliper.
---

CALIPER BRACKETS
THANKS TO "MAKOSHARK" TEAM CAMARO FORUM MEMBER FOR PROVIDING THESE PHOTOS OF HIS C.B.B. INSTALLATION!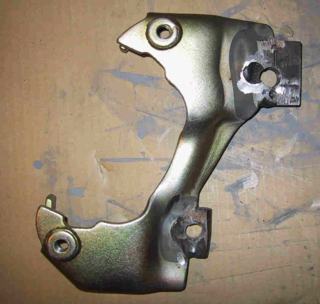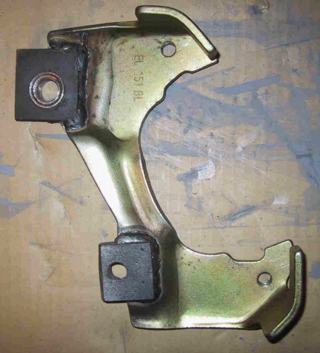 ---

ROTOR SPINDLE AND CALIPER

---

PARTS NEEDED FOR CBB
1. CAMARO DRUM HUB
2. LONGER WHEEL STUDS - RECOMEND 1/2 DIA this size will fit std rally wheels with no mods.
3. MID 70'S CORVETTE FRONT ROTOR
4. MID 70'S CHEVY HALF TON TRUCK CALIPER (some big car calipers will work too but must be for 1 1/4" thick rotors.
5. MID 70'S CHEVY HALF TON TRUCK CALIPER MOUNTING / GUIDE BOLTS. 1/4" LONGER THAN CAMARO CALIPER MOUNT BOLTS.
6. CAMARO FRONT DISC BRAKE CALIPER BRACKET OR BRACKET FROM ONE OF THE DONOR CARS ON MY LIST.
7. USE CAMARO BRAKE PADS, TRUCK PADS WILL FIT BUT I DON'T KNOW HOW WELL THEY WOULD WORK.
WARNING
The caliper bracket will be the hardest part to find.
Repro brackets are produced by Master power, I don't know if they will sell the brackets separately. If they think you are going around them to come up with a cheaper set of brakes they may not sell them to you. If you call anyone reproducing these brackets I suggest telling them you are replacing corroded brackets you have on your car.
This vendor has the brake brackets above which you will have to modify to fit the larger dia rotor. CPU MUSCLE CAR PARTS
HERE IS A LINK TO MASTER POWER BRAKE. http://www.mpbrakes.com/

THEY SELL A REPRO SINGLE PISTON BRACKET FOR THE STANDARD 11 X 1" ROTOR THAT CAN BE EXTENDED TO MOUNT THE BIG CALIPER.

LOOK FOR PART NUMBER BRCA1741L - PRICE - $299.00
---

CBB SYSTEM FRONT TO REAR BALANCE - BORE SIZES
WHAT SIZE REAR CALIPERS WILL WORK?
When I thought of the CBB brake system, I was only thinking of the front end of the car. Of course most people want four wheel discs on their Camaro. The large piston area of the truck front calipers is not a good match for most later rear calipers. Later model front and rear piston sizes are smaller than older cars.
WHAT IS IDEAL?
I hear very good reports of front to rear balance on the JL8 equipped Camaros with no proportioning valve installed. IF this is true the JL8 balance of 65% Front, 35% Rear is a good balance to use as a goal. Most have the factory frame rail mounted proportioning valve so without one you will definately need an adjustable proportioning valve.

*NOTE We need to compare four or six piston calipers to singles by using ONE HALF of the four piston caliper total caliper area in square inches. This allows us to compare it to a single piston sliding caliper.
The JL8 has a front bore of 1 7/8" two pistons per side, so one side has a total piston area of 5.522 sq in.
The rear piston is 1 3/8" one caliper side area of 2.969 sq in.
Total piston area (one half of ft caliper and one half of rear caliper) 8.492 sq in
USING A CBB - CHEVY TRUCK CALIPER, ALSO STOCK FIRST GEN CALIPER, SINGLE PISTON
Ft bore 2 15/16", = 2.875" DIA, single piston caliper which is 6.491 sq in.
* Read caliper bore note above.

Rear piston size required for 35% ratio = 3.44 sq inches. this is needed for one half of a four piston caliper, or the bore size of a single piston caliper. a four piston 1.5" bore would work, a single piston of 2.1" dia, or 53mm or 54mm would be a ball park size for the rear, using an 11 3/4" rotor.

If too large a rear piston is used, you can install a proportioning valve to correct pressure, but extra fluid volume is needed to move the large rear piston. This will result in extra pedal travel, and cause a much lower brake pedal when braking.

I have not looked around for what rear caliper would fit this description.
I should also note I autocrossed my 67 Camaro with the four piston JL8 sized rear calipers & rotors, but used the single piston 69 caliper with stock rotors and had to use a proportioning valve on the rear brakes or they would lock. No stock frame rail "pressure valve".

---

Official D.O.T. Edge Codes, Coefficient of Friction (C.F.)
I had this info in my files, thought I'd throw it in here.
Official D.O.T. Edge Code

Coefficient of Friction (C.F.)

@ 250 F and @ 600 F

Comments

EE

0.25 to 0.35 both temps

0-25% fade at 600 F possible

FE

0.25 to 0.35 @ 250 F

0.35 to 0.45 @ 600 F

2% to 44% fade at 600 F possible

FF

0.35 to 0.45 both temps

0-22% fade at 600 F possible

GG

0.45 to 0.55

Very Rare

HH

0.55 to 0.65

Carbon/Carbon only.

O.K. up to 3000 F where it glows
Notes: These edge codes are located on the edge of the friction material of every brake pad by government regulation, along with some other codes. The first letter is a grading of the C.F. at 250 F and the second letter is a grading of the material at 600 F. Each letter grade can actually have quite a range of C.F. But a difference in the letter grade from medium to hot temperature could be an indicator of fade. The letters can be in any order. Therefore FE pads fade when hot, and EF pads would not grab when cold.. Also, you should know that Steel on Steel has a C.F. of 0.25!! So EE pads have only marginally more torque than no pads at all! Therefore FF pads are usually considered the minimum for a high-performance pad.
There are around 5 people considering or doing this swap right now. The hardest part is finding and modifying the caliper bracket, as it's not flat and can't easily be reproduced.
One person is doing a version of this swap using a fourth generation Corvette rotor on a Camaro drum brake hub. There is a 12" and 13" rotor available for the C-4 Vette.
Corvette calipers could be used on the C-4 rotors for a nice setup.
---

HERE IS A STORY ABOUT THE JL8 FOUR WHEEL DISC OPTION

I recomend you read this, it tells all about the Camaro factory options and over the counter high performance parts too.

Below is a link to the web site by the same author, there are some great articles there.

http://www.camaro-untoldsecrets.com/articles/article_fs.htm
---
my 12" Vette swap page