THE OPTIMA ULTIMATE STREET CAR INVITATIONAL
OUR STORY
Written by David Pozzi 12/2008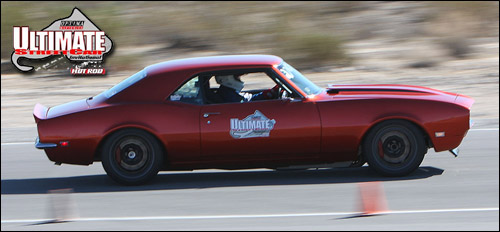 BACKGROUND
A couple of months before the Optima Challenge, my wife Mary drove Bad Penny in an Autocross, I rode as passenger and got some basic impressions of the car's capabilities and shortcomings. While traction and handling were very good, there was very pronounced body roll and quite a bit of understeer. We made some tuning recommendation to Steve Rupp, and I hoped someday to take a turn behind the wheel of a more finely tuned Penny. Soon after, the Optima Challenge Ultimate Street Car Invitational was announced, Bad Penny was invited to represent the Internet forum Lateral-G.com. Steve immediately rushed full-tilt into revamping Penny into "Bad Penny v2.1T", A "Track Edition" I'll let Steve talk about what was done, but it was a huge thrash that barely got done in time. After some discussions back and forth we all agreed the best approach would be to use a team of drivers, with me doing the track driving, Mary driving the Autocross, and Steve driving the Speed Stop "0-60-0".
AT THE TRACK AT LAST!
By the time Penny arrived at Spring Mountain race track, I expected even more horsepower and torque from the larger 402 stroker engine, less understeer from a watts link adjustment, less body roll, and stiffer rear springs, but I had some concerns that the car would still not be balanced well enough to get full performance out of it on a race track. Making more than one change at a time is not recommended, but due to limited time, we needed to give it our best guess and let the drivers deal with the consequences. I had yet to even sit behind the wheel and the anticipation was killing me. Add to that the fact that I had never turned a wheel around Spring Mountain's twisty 2.2 mile road course and I was wondering what I'd signed myself up for. Steve's instructions were to go for it, "run the heck out of the engine, but don't bend the car". One thing for sure, I didn't want to be known as "the guy who wrecked Bad Penny" and that's not my driving style anyway. Finally it's time to get in line for some practice laps, I get belted in, and instantly Penny feels like home! My first car was a 67 Camaro RS 327 that I bought new in October 1966, I Autocrossed that car for 7 years during the 70's, plus put over 150,000 miles on it on the street, so I feel more at home in a First-Gen Camaro than anywhere. The seat was comfy but lacked a tad of shoulder support, the Steering position was perfect, the pedals were set about right, and the shifter moved freely but there was a bit of a reach for 3rd, and 5th gears. Driving Penny around the pits a bit the clutch was surprisingly easy to operate, though the engine ran a bit rough at low speeds, Steve warned me the calibrations were off but he had no time to have it properly dyno tuned before the event. Looking at the full complement of instruments in the car I was wondering if I'd have time to even glance at a couple of them and still figure out where to drive on the track, so I asked my wife, Mary to ride shotgun on the practice laps, observe oil pressure in the turns, and keep track of engine vital signs.
PRACTICE
Once out on the track Penny drove like a dream, very smooth and nimble, body roll didn't seem excessive, but I've found it's hard to tell exactly how much roll you have from inside the car. It's best to take photos or have outside observers. As speeds increased I began to notice understeer in every turn, the right hand turns were worse than the left hand turns due to high cross-weight left front to right rear, this was the result of changing springs front and rear before the event and not having time to properly scale the car and even them up. I found during the practice session I could easily catch the car ahead of me and desperately wanted to pass him but we were warned in the driver's meeting passing was not allowed. I missed the middle part of the practice session due to a left rear engine breather that was spewing oil. Steve removed it and borrowed a stock twist-on cap from a nearby SUV and we wrapped rags around the power steering cap and remaining engine breather up front. I quickly got back out on the track and got in a few laps at a faster pace. Penny had good power but not as much as I expected, I found myself flooring it at every opportunity and not having to modulate the throttle much at all, It felt like we had around 350 to 400 RWHP but Penny was supposed to have more. With the tires now warm the understeer reduced a bit but I had to quickly work out a way to minimize push by braking early and getting back on the power to shift weight off the front tires. Slow in, fast out is a good way to drive a road course, but I had to take it to extremes to get the car to come around. Looking ahead on this track is a necessity, - but difficult, the sight lines don't allow you to see more than the next turn or curb approaching.
TIMED LAPS
There's nothing like the feeling of having your hands on a stunning supercar and a 2.2 mile road course to turn it loose on. Sitting in the pit lane waiting to go, I can't believe I'm sitting in a SEMA show car/ magazine cover car and about to find out for certain if this beautiful 68 Camaro is all show or all go! When the green flag fell I was on a mission, I lit the tires off the line and put the hammer down, Penny digs in and leaps forward, I run Penny up through 1st, 2nd, then 3rd gear. Entering the turn 1 right hand sweeper I quickly find the limit and know instinctively exceeding it will push the nose off line forcing me lift to slow and get back on line I figure out a couple of short lifts pulls the nose back into line and I nudge the throttle open as much as Penny will stand, turn 2 is a left hand sweeper and Penny has much more grip to offer in this direction, I wait to floor it on corner exit and there is a huge pavement transition bump and I'm hard on it all the way to redline where it lingers for a count of 1 - 2- 3, and then I hit the brakes HARD over-slowing a bit and throw the wheel right into turn 3, feeding on power until the front pushes ever so slightly then I level off and maintain hitting my apex marks and looking for the entrance to the esses. The remainder of the first lap was spent pushing Penny hard trying to build heat in the tires. Passing the start finish line the flagman waved the green flag again signaling my first timed lap. I kept corner entry speed slightly low and focused on hitting my marks, looking ahead for the next curb to apex and carrying speed. Through the esses Penny flat boogied through there taking a pot hole dip in stride. I made a mental note to thank Bilstein for the shock setup, -amazing! I was also amazed how easily Penny could change direction and get set quickly to take a corner. If not for the understeer, I could have charged into the corners much harder and gotten on the gas earlier in the turn, exit speeds would have picked up making straightaway speeds higher. The left hand sweepers were outstanding, Penny was understeering only lightly, on right hand turns I had to watch it, or I could easily pick up a bad push. On my last timed lap I did get a lot of push at turn 3 on corner exit, swung wide, and my lap time slowed by nearly a second. Coming to the finish line I spotted Penny's cheering section waving along the pit wall as I swerved through the last two corners. How cool is THAT!
PENNY'S PARTS
The Lateral Dynamics 3 link rear never let me down, I've never driven a Camaro that felt as stable in the back as this one. When a rear suspension works this well the driver doesn't think "WOW this is working", it just removes the rear suspension as a problem the driver feels or is concerned about, he can shift focus to other tasks like getting the car around the track. Just hit the gas and GO, no funny business. The 21st Century front subframe was a pleasant surprise for me. All C5 Corvette suspension up front, Awesome handling and light weight suspension components. The 6 piston Willwood brakes were manual, I was worried they would overheat with no cooling ducts, but they worked great and had no problems hauling Penny down from over 100mph repeatedly. Engine, Steve worked very hard putting a stroker kit in Penny's LS2, the engine was run hard to redline time after time, and I can only imagine how well it would have run if properly dyno tuned and up to full power. The transmission was great, the shifter had a long throw but very narrow gate that did not like to be shifted fast. I had lots of trouble shifting and very little time to get used to it, so I minimized shifts, and took my time between gears letting the spring move the lever across the gate which while it is a bit slow, is way faster than missing shifts, which I did a lot of in practice. Tires, the Toyo tires were awesome, super forgiving of mistakes, and very controllable. I need to see if they have some to fit my 67 Camaro.
To sum up this was an awesome event! The cars at this event you would only dream of seeing in person, let alone see runing on a road course. Penny once again showed how a good package with all it's parts carefully chosen can do just about everything well, including driving from LA to Vegas, showing at SEMA, then setting the standard at the race track. Driver experience is worth it's weight in gold in road course events, while some who attended had little to no track experience they got out there and went for it and learned a lot in the proccess. I'm confident that with a full year to prepare for the next Optima Ultimate Street Car Challenge, the cars, competition and speeds will be fantastic. I can't wait!
David Pozzi