First Gen Camaros
Here are some old photos of my 67 Camaro
LINKS WITHIN THIS PAGE:
My 67 Camaro RS
Salinas Airport Autocross- four wheel drift. (around 1975)
In those days, Ernie Irvan used to Autocross his Dune Buggy there. He and his dad, Vic, belonged to the Luv Bugs dune buggy club. The dune buggies were banned from playing on the beaches on Monterey Bay, so they turned to Autocross.
I was President of the Monterey County Camaro Club. And joined the Pebble Beach Sports Car Club
My Camaro was my first car, and I've owned it since new, October 1966!
It was a 327 Rally Sport with the 275 hp and Saginaw four speed, 10 bolt rear end.In this photo, the car is exiting the turn and under full throttle. The front has lifted up and is transfering weight to the rear. At this point the front camber curve is not a factor.
This is what happened when I added 8" wide race slicks on Corvette steel wheels. Note the car is leaning a lot, and the rear is raised, the outside tire is cambered out and overloaded, the car is understeering badly.
This is a later photo. I'm now up to 10 inch rims on the front. Notice the car is leaning just about two degrees, and the outside front tire is nice and flat. The tires I'm running here were front tires off Al Holbert's IMSA Monza.
By then I was running a 350 LT1 with a cam and headers, Muncie four speed and 4.56 gears. This was taken at the Cal Expo state fairgrounds, we ran the "access road" I hit 105 mph on the straight! After a three lap run, (one warmup, two timed) I turned my front rotors purple. It was about 105degrees too.
Sacrameto California State Fair Grounds around 1977
This is just before I started cutting on the wheelweells. aaah! the good old days!
This is a closeup view I had taken to see if my outside ft tire was flat on the pavement. Unfortunately, it's too dark to see! about 1974. And I began running eight inch racing slicks.
I tried copying the 70 camaro stripes by tapering them. I put a 69 bumper on the car, I had to cut it in the center and weld it back together to make it fit.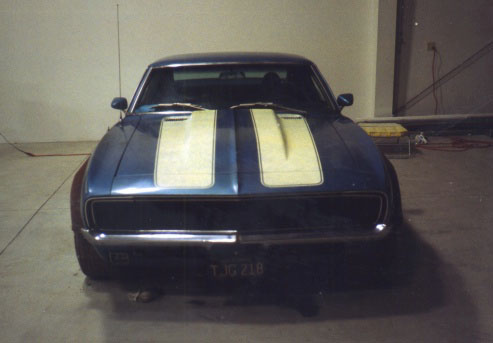 Above is the last photo of my Camaro I have. This was just before I took it apart for rebuild. I cut a 69 bumper apart and narrowed it to fit my car.
This 69 Z/28
belongs to Alan Isaac, my longtime Camaro buddy.
Taken at Cherries Jubalee, Laguna Seca, CA Sept, 2000.
He has 16" American type wheels on the car.
George Crivello's neat 69 Z/28 Camaro - A tribute to Mark Donohue.
At laguna Seca open track event spring 2001 Green flagracing.
Compomotive wheels that look like Minilite vintage wheels. He has the JL8 four wheel discs, which are badly needed at Laguna Seca.
---

OTHER CAMAROS
83 Firebird Trans Am
Owned by Herb Adams, this is competing at the SCCA Solo II Nationals at Salina, KS 1983
In 1983 I drove my first third gen F body. It was owned by Herb Adams and was known as the "SHOOTOUT" car.
Hot Rod magazine held a contest between a Guldstrand tuned Camaro, Herb Adams tuned Firebird, and a Maier Racing Mustang. The first SHOOTOUT used second gen cars and they were tested at the drags, slalom, and Willow Springs Raceway road course. This car was used in the second SHOOTOUT.
When the contest was over Herb Adams invited me to drive the car at some autocrosses and explore the autocross potential of the car. After I drove it a couple of times Herb tried some of our suggestions and some of his own, which made the car better.
I wound up running the car at the SCCA autocross national championships in Salina, KS. where I finished eighth in the new street prepared class, a 1970 LT1 Corvette won.
Upon returning to California, we went to see Herb Adams Can Am car run at Sears Point. It was an unusual car in that it had the engine and trans on one side and the driver on the other side with a huge venturi in the center of the car!
85 Z/28
305 TPI, auto
SCCA national autocross, 1988 finished 5th in F-Stock with 50 competitors in the class.
My wife, Mary is driving, thus the FSL on the car.
Salina, KS
89 IROC
350 TPI, auto
SCCA national autocross, 1989
Salina, KS
This car was a second faster than the 85 Camaro 0 to 60, and about a second faster on the autocross course. I finished 13th, one set of runs was in the rain.
Note the tire deflection on the rear portion of the rear wheel. We showed up and had four types of new tires to select from. I chose the stickiest ones, but they were vague in steering response. Not a good time to be experimenting!
#Top

---

"THE WIFE'S CAR"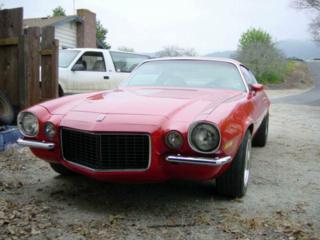 Just got it, needs work, lots of little things.
---
P.S. MORE ABOUT MY 67 Camaro
COMING BACK FROM RETIREMENT
This is the subframe out of my 67, undergoing conversion to a Richmond 4+1, transmission. I used a turbo 400 transmision crossmember for a cleaner installation.
The shifter was moved down, forward, and to the right, to fit my factory console. I used the factory holes in the subframe. My Camaro didn't have the two exra frame holes to attach the closer spaced T-400 crossmember. I added a little tab to the rear of the crossmember edge for the hole.
Click on Photo or HERE to get more info.
67 Subframe horn.
Interesting diferences.
This photo compares my early 67 Camaro LA built car, (lower). With a later 67 frame (top) I have never seen an early Camaro without the frame horn holes like my car.
I've heard these holes served as attachment points for tow hooks.
The two smaller holes I drilled for a tow bar.
67 front sub frame
Al weld seams have been fully welded.
Note: lack of holes in the frame horns. Also, no raised area around the center hole in the center of crossmember where the six cyl engine mounts.
This is an Oct 66, Van Nuys CA built Camaro
I had previously redrilled my upper A frame locating holes to lower them. This time around, I'm cutting off the bottom of the mount and lowering it. If you look closely, you can see where I trimmed the top of the bracket to clear the upper A frame. I also had to notch the front edge of the bracket to clear.
I plan on adding more info on Improving the suspension geometry, springs, shocks, brakes, etc, of early Camaros.
For more info on Front Suspension Geometry, brakes ETC, check my- First Gen Suspension Page.
---
Date Last Modified: 1/20/08