Vintage Can Am Racing
VINTAGE CAN AM 40TH ANNIVERSARY AT ROAD AMERICA
JULY 2006

I vintage race a 1965 Lola T-70.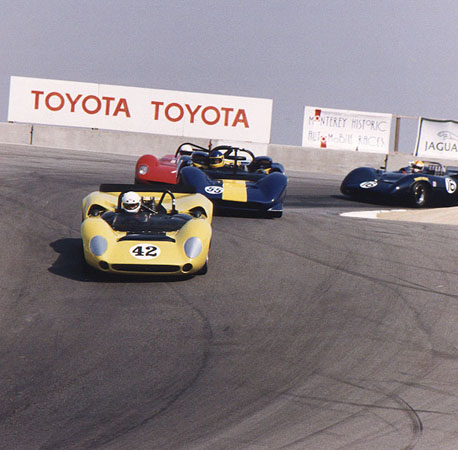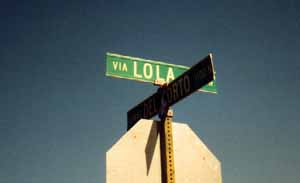 .
The Corkscrew at Laguna Seca CA
Leading three other T-70's on the first lap.
My car is a MK I, the MK III's had no headlights and used more aluminum in their construction, making them about fifty pounds lighter.
Of course when the T-70 first came out, they called it the T-70, period. It wasn't until the T-70 Mk II came out that they started refering to it as the T-70 Mk I.
The T-70 is a very good handling racecar, and is a lot of fun to vintage race. It's important to keep the rear suspension joints tight. As over 60% of the cars weight and all of the horsepower goes thru the rear suspension.
T-70's weigh about 1600 to 1700 lbs without the driver, and half tank of fuel. It is very easy to get a 350 Chevy to put out 500 to 600 horsepower.
On pre-grid at the Monterey Historics
Laguna Seca CA. Gary Miller, (in blue ) started racing a Lola T-70 MKIII coupe around the same time I did. He is currently preparing a March GTP coupe for vintage events.
Turn 11 at Laguna Seca.
Second gear is best, with first gear you have to shift before the car is out of the turn.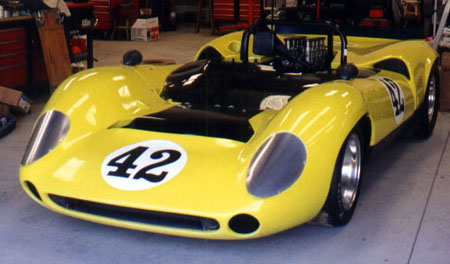 This is a nice 3/4 view of the Lola at home. The neatest thing about a Can Am car is the passenger seat. This is one of the fiew really fast cars that has the capability of taking a passenger along! In it's time Can Am cars were nearly as fast as Formula one Cars, so they provided a special fiew passengers with quite a thrill!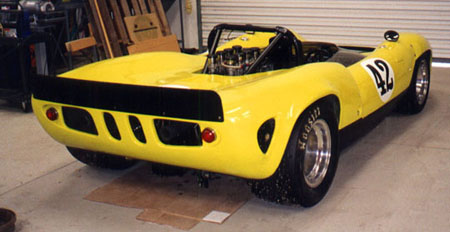 Here is a new overhead shot of the Lola

T-70 ENGINE
This is a shot of the engine and drivers seat in my T-70. You can see that I am almost sitting up against the engine!
That's the head rest upper left, and the sholder harness anchor below it.
---
This is a 1972 McLaren M-20, only two were built, it is powered by a 510 cubic inch aluminum Big Block Chevrolet, about 750hp and a LOT of torque.
But, The M-20 couldn't beat the twin turbocharged 1200hp Porsche 917-30 of Mark Donohue, so McLaren quit Can Am and went Indy racing. This car was the first to have the radiators just ahead of the rear tires with ducts leading into them.
My Lola represents the oldest segment of the Can Am class. The M-20 is the almost the newest. The Can Am ended in 1984. Killed in part by the energy crisis, and Porsche's domination of the class.
That's me sitting in a McLaren M-20 one of only two that exist. Powered by a 510 cubic inch 750 hp aluminum big block Chevy of course. Riverside, Ca, 1984. Gee, my hair was not grey back then!
The Big Block Chevy can now put out around 900hp with modern heads and camshafts.
Wish I'd gotten a chance to drive that one!
THE FIVE PHOTOS BELOW WERE TAKEN AT LAGUNA SECA PRE HISTORIC CLUB WEEKEND AUG 2001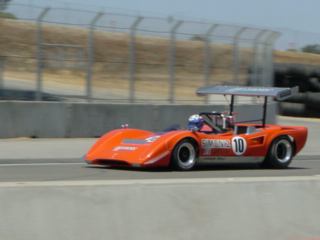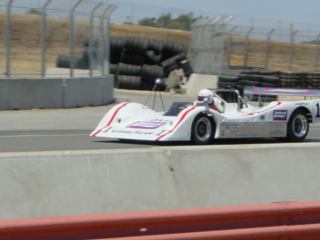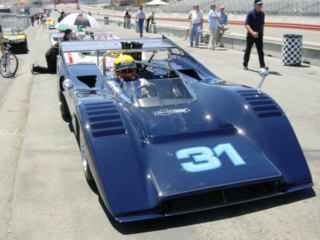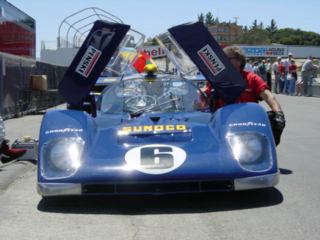 Upper left going clockwise, Lola T-163, Lola T-310, Penske Sunoco Ferrari 512, Mclaren M8, it's a "D" model, the "F" had a body lip all allong the edge running into the tail wing supports.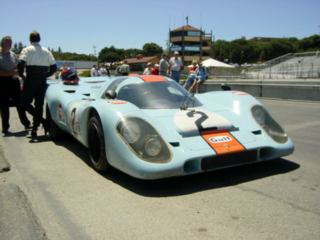 Porsche 917, as in the movie "lemans"
---
EISERT F-5000
This is an Eisert Formula 5000 car. Jerry Eisert built about 8 of these, and only this one was a short wheelbase version for road racing. The rest were for Indy.
I autocrossed this car for a season, winning a local championship, and ran it at an SCCA Solo I track event at Laguna Seca CA. We ran a 350 engine with Weber carbs. I took the car to the Cambria CA,time trials held on streets laid out on a yet to be built subdivision, and set a track record that I don't think has been broken, it was about a mile long track, I spun the tires most of the way down the front and rear straightaway.
---

CARS MY FRIENDS OWN
GARY MILLER'S MARCH GTP
Just painted, June, 2000! (red of course) Gary has amazing talent for bodywork and paint, he is also an exelent mechanic.
He's a former winner of the Monterey Historic auto races in the GT class and a very talented car restorer.
---
JOHN CHURCH CAN-AM LOLA T-222 CHASSIS HU08
This car was just purchased for vintage racing by my good friend John Church. Origonally driven in 1971 by Hiroshi Kazato. as #88, the car ran 9 Can-Am events in the US in 1971, and was maintained by Carl Haas, the Lola importer.
In 1972, the car was raced by the Bobby Rinzler team, #23, the driver was Charlie Kemp, entered in 8 races.
The engine is an all aluminum 454 with Lucas timed mechanical fuel injection and dry sump lubrication. Transmission is a Hewland five speed transaxle. Rear tires are 17" wide.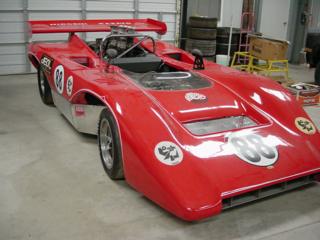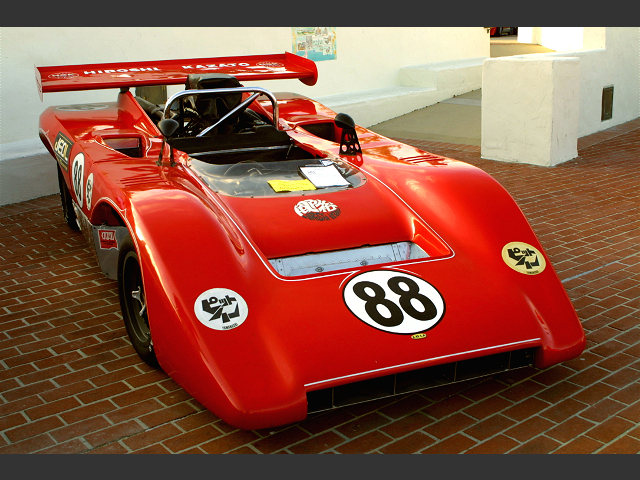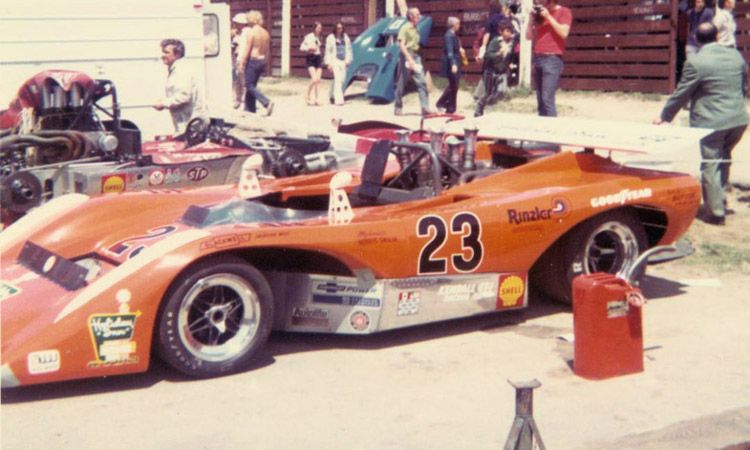 ---

LINKS
Here is a great link for more Can-Am photos: http://www.photoessayist.com/canam
Here is a new Can-Am history page with a forum, Chat, and much more. http://can-am.husted.cc/index.php
Motor Racing Program Covers Project http://www.progcovers.com/motor/index.html
---